Ebay Store Advertising
If you have an eBay store, you want it to get noticed, right? ClassifiedFlyerAds advertises your eBay store by using a feed of your inventory to automatically read and import your items into individual landing pages.
This means that each item in your store will have its own dedicated webpage outside of eBay. Your part is easy - just submit your store's feed, and let us do the rest!
See instructions on how to get your eBay store feed.
---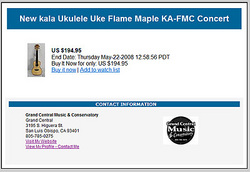 Search Engine Exposure - ClassifiedFlyerAds.com will import your eBay store's feed and automatically insert each of your items into a professional landing page (web page). Each of your eBay item web pages will display item details and links back to your eBay store. In addition, all item web pages will be optimized and submitted to search engines.
Web Directory Exposure - Our system will also syndicate your items to other top online directories and feeds. Syndication allows the items in your store to be posted to multiple directories at one time, which will place them in front of thousands of buyers who search these directories daily.
---
Why Advertise Your eBay Store With Us?
Our powerful system allows you to gain mass exposure for your eBay store and items. Watch the traffic soar in from your eBay item landing pages that rank in the top of search engines. Reach thousands of buyers who search other top online directories.
---
Related Pages:

eBay Store Advertising
Effective ebay store advertising - advertise your ebay store

Advertise Your eBay Store
Advertise eBay stores items with ClassifiedFlyerAds.com

eBay Store Marketing Video Tutorial
Video Tutorial on how to use ClassifiedFlyerAds.com to market your eBay store

eBay Store Landing Pages
eBay store landing pages by ClassifiedFlyerAds.com

eBay Store Syndication
eBay store syndication with ClassifiedFlyerAds.com